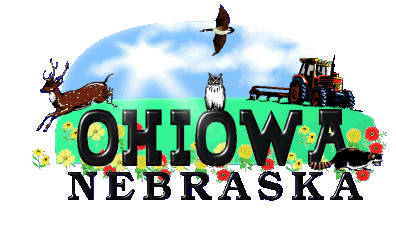 ---
Welcome to Ohiowa, Nebraska!
Ohiowa, in Fillmore County, Nebraska, is located in the southeast corner of the county and is approximately 577 miles from Chicago, 576 miles from Dallas, 440 miles from Denver, 218 miles from Kansas City, 1454 miles from Los Angeles, and 1378 miles from New York. It is approximately 34 miles from Interstate 80, which runs east to west across Nebraska.
The town is an agricultural community and has proven to be one of the most fertile spots in this section of the state.
Ohiowa has 115 residents. The population of Fillmore County is 5,890.
See us in the Dark - Total Solar Eclipse August 21,2017 - View more information
For more information about our community, please contact:
---

Copyright © 1997 Nebraska Public Power District. All rights reserved.